Computer Assisted Design and Drafting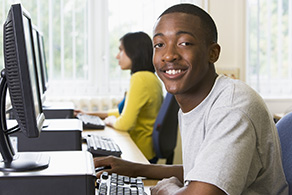 Today's drafting careers are in demand and within your reach through GIFT! Since all manufactured items and construction projects must be designed and drawn before production, the need for trained design and drafting personnel increases as the economy grows.
Our Computer Assisted Design and Drafting (CADD) program prepares students to succeed as CADD technicians in construction, engineering, manufacturing, and civil drafting.
What do CADD Graduates Do?
CADD technicians specialize in 3D design concepts and modeling, residential and commercial architectural design and planning, and cartography. CADD operators design original (and convert existing) ideas and sketches into workable plans that engineers, architects, and designers use to make machinery, structures, and products.
Class Offerings
We proudly offer the following courses from Eastern Arizona College. For additional information about individual courses or the requirements necessary to earn your certificate, please review the EAC's academic catalog or speak with your guidance counselor. (Most course info is on page 143.)