HVAC Technician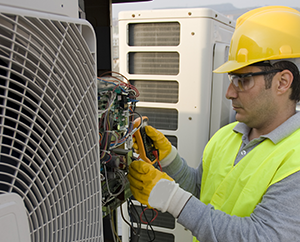 Today's HVAC careers are in demand and within your reach. This field prepares graduates for careers in HVAC Technician installing, repairing and maintaining heating, air conditioning and refrigeration systems. These jobs are typically full-time. Work environments can include schools, hospitals, business sites, offices, homes, and sometimes multiple locations in the same day. Most work takes place indoors, but includes outdoor tasks also. Working evenings, weekends, and holidays can be required in emergency situations.
What Do HVAC Graduates Do?

HVAC technicians install, repair and maintain heating, air conditioning, and refrigeration systems.
Class Offerings
We proudly offer the following courses from Eastern Arizona College. For additional information about individual courses, please review the EAC's academic catalog or speak with your guidance counselor. (Most course info is on pages 145 and 146.)
The following is a list of collapsible links. After selecting the link, additional content will expand. Arrow down to read the additional content.