News
Our students are making headlines, and we want to share all the great news with you. We will keep this page updated with important announcements, news stories, and student shout-outs. Please check back often, and help us celebrate our students' many achievements.
Meet the Instructors Night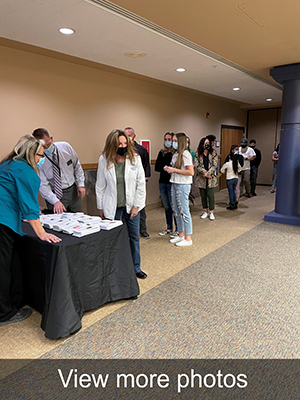 Our meet the instructors night took place on Tuesday, February 23, 2021. We had an amazing experience as we hosted area students and parents while they explored the many possible programs and career paths they could take.
Do you have an interest in seeing what they are signing up for? Visit our GIFT Programs page for more information, and remember that Gila Institute for Technology pays for tuition and books for the programs we host at EAC.
CTED Career Signing Day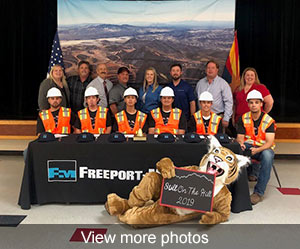 Morenci School District, the Gila Institute for Technology, and Freeport-McMoRan hosted a Career Signing Day to honor the six graduates of the Electrical and Instrumentation CTED program recently hired at Freeport-McMoRan as apprentices.
This CTED program is taught in Morenci and is open to high school students in Graham-Greenlee Counties. Partnerships such as these ensure that the company will continue to have a strong workforce pipeline in the future.
We send a big shout out to Greg Verlander, the instructor for the course. His dedication to the student's success is vital to the success of the program. Great job! We invite you to read through this Career Signing Day press release for all the details!
GIFT Program Has Three National Winners at HOSA International Conference
Four students from the Gila Institute for Technology program recently competed in the International Leadership Conference in Orlando, Florida from June 18 through June 23, 2019. Courtney Davis placed first nationally in the home health aide, Moriah Guy placed third nationally in nursing assistant, McKayla Wilson placed third nationally in physical therapy, and Rachelle Gutierrez competed in pharmacy.
These students were accompanied by their HOSA advisor, Marianne Taylor. We are so excited for these students winning, placing, and competing nationally. They are all outstanding young ladies who will continue with their post-secondary education. All four were Arizona HOSA state winners in their respective fields to qualify for nationals. 
To learn more about the GIFT program, please talk to your local high school counselor, visit our GIFT Programs page, or call (928) 348-3393 for more information.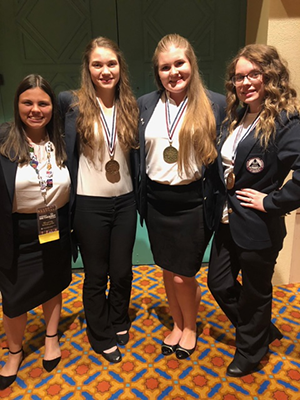 From left: GIFT students Rachelle Gutierrez, pharmacy; Moriah Guy, third place in nursing assistant; Courtney Davis, first place in home health aide; and McKayla Wilson, third place in physical therapy.