Welding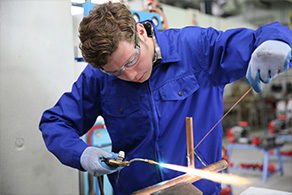 The Welding program at GIFT provides the opportunity for students to develop the skills necessary to enter the welding trades. Students who complete our program will be prepared to handle welding and cutting tools, will understand the differences in and uses for various metals, and may even develop the supervisory skills needed to become a shop manager.
What Do Welding Graduates Do?
A welder fuses materials such as steel and aluminum together to create mechanisms or to fix things that are broken. They often use CADD software to create or manipulate plans and commonly use equipment such as stick welders and cutting torches. Some jobs require past experience, while others offer on-the-job training for entry-level welders. Math skills, manual dexterity, and the ability to use hand and power tools is needed. Attention to detail and self-motivation is also necessary.
Class Offerings
We proudly offer the following courses from Eastern Arizona College. For additional information about individual courses, please review the EAC's academic catalog or speak with your guidance counselor. (Most course info is on pages 126 and 177.)