Cosmetology-EAAC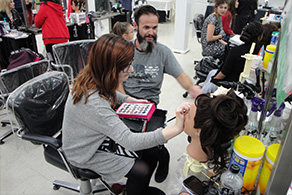 The Eastern Arizona Academy of Cosmetology program teaches students cosmetology principles and practice in a simulated salon environment. At the end of the program, our students will be prepared to take the Arizona State Board of Cosmetology exam.
As a cosmetology student, you'll develop your professional image and learn:
Life skills 
Communication and interviewing skills
Cosmetology science
Hair care (including cutting, shampooing, coloring, and chemical texture services)
Skin care (including facials and makeup)
Nail care (including manicures, pedicures, and artificial nails)
Business skills
What Do Cosmetologists Do?
Good cosmetologists are in high demand, and they do much more than cut hair! Cosmetologists are business owners. They help clients care for their hair, skin, and nails. They work in beauty salons, day spas, cruise ships, luxury spas, and resorts. Many start their own businesses.
Class Offerings
We proudly offer the following courses from Eastern Arizona College. For additional information about individual courses or the requirements necessary to earn your certificate, please review the EAC's academic catalog or speak with your guidance counselor. (Most course info is on pages 139-140.)